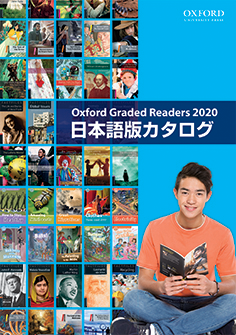 Oxford Graded Readers 2020 - 日本語版カタログ
Offers a wide selection of carefully graded titles to engage every interest at every level from beginner to advanced. Choose from fiction, playscripts and non-fiction titles. Synopsis in Japanese is available for most titles.
*If you wish to have a print version of this catalogue, please contact us at elt.japan@oup.com.
英語スキルに応じてレベル分けされたグレイディッドリーダーをご紹介。
多読、精読にご活用いただける多様なタイトルをご用意しています。本カタログでは、一部のシリーズを除き、各タイトルのあらすじを日本語で掲載しています。
※印刷版のカタログをご所望の方は elt.japan@oup.com までお知らせください。
- Oxford Reading Club / MP3音声ダウンロード付きパック
- グレイディッド・リーダーを選ぶ前に
- Books with Japanese titles
- Find Your Level 自分のレベルをチェックしよう
- グレイディッド・リーダー レベル比較表
- Dominoes と Bookworms の特徴
- グレイディッド・リーダー価格表
- Build your library お得なパックセット
Oxford Bookworms Library (incl. Factfiles and Playscripts)
Oxford Read and Discover / Oxford Read and Imagine
Classic Tales / Oxford Reading Tree
※ファイルサイズを抑えるため、画質を落としています。
*Please note these PDF files are downsized for smooth download.